HYPE Summer Camp Teaching Assistant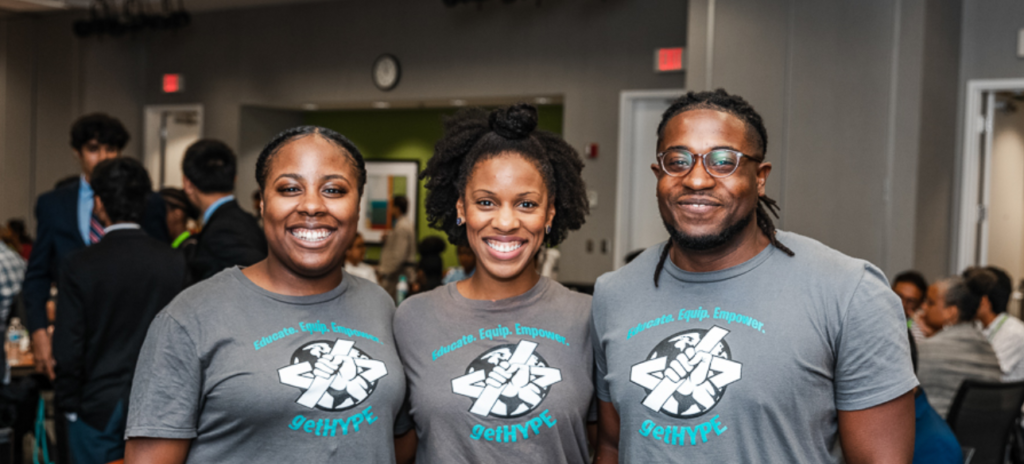 Organization Summary
Hope For Youth, Inc. (HYPE) is a thriving Atlanta-based nonprofit organization that is empowering middle and high school girls of color to become future leaders in tech!
Through our interactive coding camps and programs, high school internship placement, International teaching experiences, college and career readiness training, and women in tech conferences and roundtables, HYPE:
Addresses early disparities in K-12 education that limit opportunities for girls of color to enter the tech workforce
Inspires girls of color to confidently pursue technology careers and opportunities
Supports retention of women of color in tech by building community and increasing representation
If you're interested in adding purpose to the work that you do every day, consider joining HYPE – where we empower one another to live lives full of hope, driven by love, and void of fear.
Position Summary
Hope for Youth, Inc is seeking enthusiastic computer science teaching assistants for our Summer Coding Camps. Our curriculum is designed to educate, inspire, and equip middle and high school girls with the skills and resources to pursue academics and careers in the technology and engineering sectors, as well as build courage and community. Our programs are unique in their approach by offering students across Georgia the opportunity to participate in 2-week camps, including synchronous and asynchronous instruction alongside technology career exploration.
Our Summer Coding Camps Teaching Assistants encourage, nurture and mentor participants, providing them with the essential support needed to build their interest in coding and computational thinking. We will be hosting multiple in-person camps taking place in Metro Atlanta. Join us in welcoming new and returning scholars into a supportive community! Find out more about our programs on our website and check out past student work in our project gallery!
Responsibilities
Support Instructor in maintaining an exciting, engaging, and accessible classroom environment for a highly diverse group of 30 students
Meet with the teaching team daily to share classroom notes/observations, plan the next day's lesson, and review student feedback.
Provide support in classroom management, lesson delivery, logistical tasks, classroom setup, etc.. For example you will be: leading portions of the lessons or activities, supporting students during class and office hours, taking attendance, etc..
Co-host classroom office hours with another Teaching Assistant (TA) or Instructor to troubleshoot students' questions, review misconceptions, or provide debugging tips based on projects.
Support in the completion of administrative duties including taking attendance, administering programmatic surveys to students, and completing daily and end of program surveys in a timely fashion.
Act as a representative of Hope for Youth, Inc in the classroom and during partner engagements.
Incorporate accommodation recommendations from Hope for Youth, Inc for students who have varying learning needs.
Communicate regularly and effectively with all Hope for Youth, Inc staff to support seamless delivery and execution of talks, activities, and partner engagement.
Understand and follow all escalation procedures for any student issues that arise during the program.
Always act with maturity and appropriate discretion when interacting with students, other teaching staff, family members/guardians and partner contacts.
Meet with supervising Program Lead on a weekly basis to review post observation feedback and check-in on student progress or concerns.
Support student interaction with volunteer STEM Professionals, thus increasing their knowledge of various STEM fields and careers (program-specific, not required for all programs);
Support students with completion of final project and presentions
Work with guest speakers to coordinate their time in the classroom (program-specific, not required for all programs);
Qualifications
Declared or Intended BA or BS in computer science or a related field by the start of program.
Experience with at least one programming language, JavaScript preferred.
Must be coachable and model a growth mindset. Teaching assistants should be willing to provide, accept, and implement feedback about their or their teacher partner's instruction or classroom management approach in order to better serve the needs of girls in the program.
Effectiveness and patience in guiding classroom activities, keeping discussions on track and thinking quickly/creatively in the face of unexpected questions or comments.
Ability to adapt to various learning styles and respect for individual differences of students in a virtual classroom.
Must be able to collaborate with other team members and share classroom responsibilities.
Strong time management and organizational skills.
Exceptional communication skills.
Timeliness and dependability in attendance throughout the program, including all training sessions prior to program start and post-program reporting requirements.
Believe that all girls can code!
Requirements
Must be able to commit to at least 1 (one) two-week teaching engagement, in addition to 1 (one) week of preparation time ("Week Zero").

Instructor hours are from 8:00 am – 4:00 PM daily
Program dates:

Round 1

Week Zero: May 30th– June 2nd; Classes Run: June 5th – June 16th

Round 2

Week Zero: June 12th – June 16th; Classes Run: June 20th – June30th

Round 3

Week Zero: June 26th – June 30th; Classes Run: July 5th – July 14th

Round 4

Week Zero: July 10th – July 14th; Classes Run: July 17th – July 27th

Ability to commit to the following hour requirements: Week Zero Prep Time ~ 25 hours per week; In Program Work Time ~ 40 hours per week
Additionally, candidates must be able to commit to a multi-day Teacher Training workshop prior to the program's start date. We are still finalizing the dates for this workshop, but expect for it to take place in late May. Teachers will be compensated for attending the training and completing all deliverables.
NOTE: If you are selected for an interview, you will receive more information about how to prepare for the teaching and technical portions of your interview.
Compensation
Hourly wages start at $15/hr
Mileage reimbursement
Meals provided daily
Camp Location/Sites
Clayton County Public Schools (Clayton County – Exact Location TBD)
Newton County Public Schools (Newton County – Exact Location TBD)
More Programs & Sites to come
---
Interested applicants may complete an application and submit their resumes and cover letter via our online application.
Please include in your cover letter a summary of your computer science and/or teaching experience, as well as a description of how you heard about this role, what motivated you to apply, and why you believe you'd be successful.